Starting tomorrow I will be unplugged for a week with: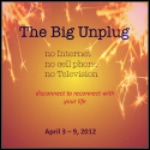 I found this on The Minimalist Mom's website several weeks ago and it sounded like something I needed do.  I have been spending more and more time online building my blog and working on getting my book out and it is becoming more of my life than I want it to be.  Don't get me wrong, I love writing and working on these projects.  The problem comes when technology becomes a habit instead of a tool.  Does that happen to you sometimes?  Do you find yourself wandering around your inbox or social networking looking for loose ends to work on instead of other 'real life' places?  Sitting on my bed with my warm laptop on my knee is becoming more of a habit than I want it to be.
So,
I am unplugging for the next week.  (don't worry, I have scheduled posts ahead so you shouldn't miss me too much :))  The rules are:
No TV – not too hard, I don't have one
No Cell Phone – I switched back to my old 'dumb' a while ago because the 'smart' wasn't worth the time it was taking from me.  I am going to try and not text for this week. The actual cell phone is our home/cell/work phone all in one… so as much as I would like to turn it off, I can't completely.
No Internet – this is going to be hard. I love the internet.
 Only 7 days. Want to join me?
If the whole 7 days is a bit more than you can handle do you want try 1 day, or alternating days? If that is to hard, what if during the next week, you timed your electronic use?
I have some great books to read and kids to hike with.  I will share any grand insight I might find with you on the other side 🙂  For the most part, I am wanting to break the habit and make sure that technology is back in it's rightful place as a tool in my life.
Needed to throw another shameless plug in for my book '321 Stop – stop running and start living'.   Just released on March 21 it is getting great reviews already and is a must read 😉  Check it out!
Here is another review I just received:
"If you are anything like me you have a vague sense of desperation about how cluttered and busy your life is and an equally vague idea that at some point you will go about simplifying it. The problem is knowing where to start. I have found myself wishing that someone would just take me by the hand and lead me through each room in my house in turn and help me to rationalise and minimise. So, Lorilee Lippincott's book 3-2-1 Stop came along at just the right moment. In fact, Lori's approach goes a lot deeper than just de-cluttering the material environment, she takes the reader by the hand through the attitudes and aspirations behind our desire for simplicity, too. This is not simplicity for its own sake but simplicity with purpose that is rooted in our dreams. It is about making emotional as well as physical space in your life. I think it is Lori's conversational style and her generous and candid revelations about her own journey that make this book such a pleasant trip. It is exciting, too, because right from the first page you catch her infectious expectation that things can and will change for you. Beginning with some ground rules about attitude, Lori tackles the problem of "stuff" in the first section of the book. She gets down to brass tacks within a few pages. It's not rocket science, it's not merely theory, it's common sense seasoned by experience and practice. Most of her practical recommendations are things I have half-heartedly attempted at some point in the past but I have benefitted from having someone saying, "do this" then "do that" – once again, small steps. She even makes you take a step back and think about furniture. She then goes on to look at some of the typically problematic areas for simplification, and this includes personal areas such as money and past regrets. These words come from someone who has actually walked every step she takes you through and that makes them personable and authentic. This book has become my "manual" for spring cleaning this year (and beyond) and it has renewed my commitment to a minimalism that is liberating and intentional. Thanks, Lori!" — Seymour