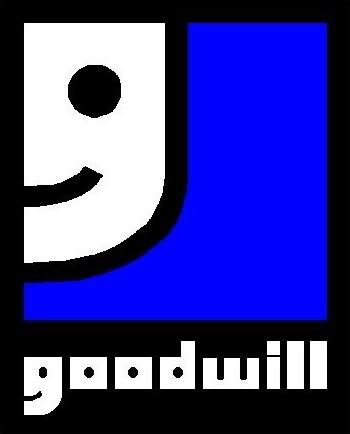 Image: PhotoBucket.com
 Goodwill is one of my favorite places.  The process sometimes takes more patience than I would like, but it is the benefits I love.
For those of you not living in the USA or Canada Goodwill is a second hand store.  Mainly clothing but also all household items and furniture.
Well, that is what I thought it was, but they are so much more.
Goodwill's mission statement has nothing to do with second hand clothing.  Here it is:
Goodwill works to enhance the dignity and quality of life of individuals and families by strengthening communities, eliminating barriers to opportunity, and helping people in need reach their full potential through learning and the power of work. (source)
They are all about helping people find and keep jobs.  There are lots of programs helping people find emergency food and shelter.  Goodwill works with people to 'teach them to fish', to help them get a job so they can take care of themselves and their families.  I thought Goodwill just provided jobs at their stores but their stores are only a part of their work.
Every 38 seconds of every business day, someone gets a job — and moves toward economic stability — with help from you and Goodwill (tweet this and help get the word out)
Check out this awesome guy named Michael:

here is the link for those of you reading RSS
I searched for someone living by me and found Christel's story.  Her family didn't want to send her to an institution and wanted her to be able to contribute to society.  Goodwill helped her with training and she has been employed for 17+ years even with her mental handicap.  I am excited for her!

here is the link
Giving people the training and support to work does much more than keep them off assistance.  It gives them self-esteem, self-worth and the ability to contribute to society.  Isn't that what we all want?
So, I love shopping at goodwill.  There are great perks:
I love the price
I love high quality brand name cloths but I don't want to spend even the low quality cloths prices.  Solution 🙂  Found a super cute dress there this week.  It is kind of like treasure hunting.  It takes some time and you can't always find what you are looking for but with patience there is reward.
It is green
I love that I can donate what we no longer need and it won't go into a landfill somewhere and everything I buy from there is something that is kept out of a landfill.  It has also cut down on resources needed to make something new.
Helps Create Jobs
Like noted above, I love this mission!  The money they make off of the things I donate and the money from my purchases goes toward creating jobs for people who many might consider unemployable.   Estimated total earnings of people who they have helped find a job in 2011 is $2.95 Billion… yep that is Billion  (source).  That represents tangible contributions to society, less government assistance needed, help for families connected to these employees, and purpose and self-worth for 189,000 people who found jobs with Goodwill's help last year!  Exciting right?
Want to get involved?  Here is how you can help:
Have you shopped at Goodwill or a similar organization?  (if you are reading RSS join us in the comments)
Thanks so much for coming by and reading! If you haven't already please sign up to get new simple living tips by e-mail. Also, if you have enjoyed this post and this site, please help me get the word out by sharing on social media.
---
Sign up to get simple tips sent right to your inbox  Subscribe 
---
[mailchimpsf_form]